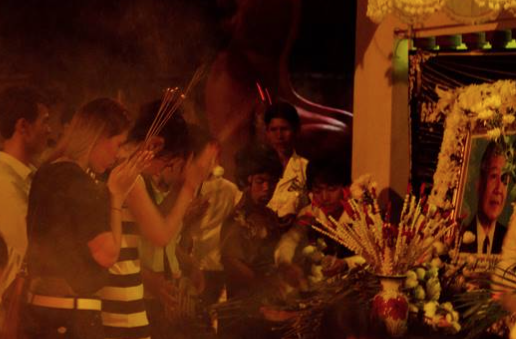 2014-15 Mellon Colloquium Series: Mobilizing the Arts in Southeast Asia and its Diasporas.
Friday, January 23, 2015, 12 noon to 2:00 pm
ARTS 335, Arts Screening Room
"The Cremation of King Norodom Sihanouk"
Drs. Supeena Insee Adler and Christopher Adler
In February 2014, King Norodom Sihanouk of Cambodia was cremated in an elaborate and spectacular week-long ceremony in Phnom Penh. Cambodian scholars reconstructed and royal cremation rituals from archival evidence and adapted these to a modern, urban, multi-media context for consumption by common Cambodians. Supeena Insee Adler, Christopher Adler, and Deborah Wong visited Phnom Penh to witness and document the events at the ground level. We survey the events of the cremation ceremony through image and sound, exploring the civic and royal rituals and the ways common people were variously invited to gaze upon them or to be excluded from them, and we present the ritual activities conducted by common people surrounding the ceremony.
Supeena Insee Adler is an ethnomusicologist whose research concerns Thai royal musical traditions and ritual healing in Northeast Thailand. She received a Ph.D. from UCR in 2014 and teaches and performs Thai traditional music in San Diego. Christopher Adler is composer, pianist, performer on the Lao mouth organ khaen, and Professor of Music at the University of San Diego.
Supported by SEATRiP and the Center for Ideas and Society as part of the Mellon-supported symposia series, Mobilizing the Arts in Southeast Asia and its Diasporas.
Flyer: Jan23-AdlerTalk